Taste the BEST granola you will ever put in your mouth!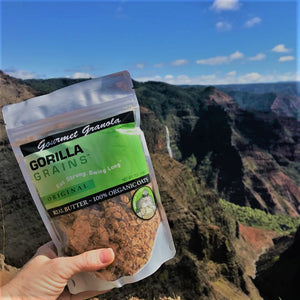 More than 40,000 pounds sold!
Enjoy just a few comments from hundreds of loyal customers.
"Wow! This is the best granola I have ever tasted."
"Oh, my gosh. I can taste the butter."
"Most delicious and crisp granola I have ever had."
"On yogurt, it's a symphony in your mouth."
"Mrs. Rehburg, your granola was a life changing experience."
"After eating this, I had to throw my other granola out for the birds."
"I have to hide it from my husband."
"Tasting it is epiphanal. You will never be the same."
Gorilla Grains at Waimea Canyon, Hawaii.
How far will it take you?